---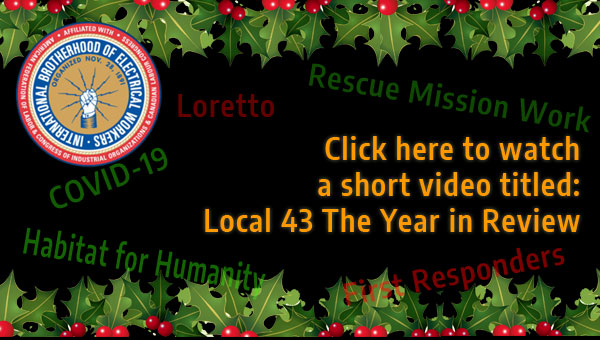 ---
Season's Greetings Brothers and Sisters,
During the course of the year, we are all busy trying to balance all aspects of our lives, from work to family to friends to health. So, it is during the holiday season I like to slow down for a second and reflect.
As 2020 draws to a close, I would like to personally thank the members and staff of IBEW Local 43 for all the outstanding work you do throughout the year to make our local union great! Whether it's the work you do on a job site or out in our community, each and every one of you works tirelessly to make sure that our contractors and customers receive the very best.
I would like to take this opportunity to wish you and your family a very Merry Christmas and a Healthy and Happy New Year.
Fraternally,
Alan Marzullo
Business Manager


---

---
Brothers and Sisters,
Kevin Crawford is retiring after 36 years from Local 43 at the end of this month. We will miss him, his dedication, and devotion to our Local Union and the Labor Movement.
Some may not know this but, President Crawford has served Local 43 not only as President, but he has also held the positions of Vice President, Executive Board Member, Trustee of Pension, Annuity and Health Plans and Trustee of Central New York Joint Apprenticeship and Training Fund.
From the beginning he has been a pillar to our staff and an asset to our local union. He has been instrumental in shaping the values of our great organization.
He has always brought the best out in others; we are grateful to him for helping us find our true potential. As he enters retirement, know that he has left behind a great track of achievement, teamwork and outstanding work ethics that will always be part of our Local Union.
We will miss his afternoon greetings to each of us as he passed us in the hallway. We will miss his humor, his willingness to listen and provide constructive feedback- especially when we were facing some real obstacles.
We thank him for all he has contributed to our organization. It has been a blessing working with him. We want to wish him a wonderful retirement filled with health and happiness. This is what he has worked so hard for to spend his days doing what makes him happy. We hope he enjoys and cherishes this time in his life. We know he plans to go hunting and fishing more, as well as enjoying more time with his family and grandchildren.
Best wishes on his retirement!
Your Friend and Brother,
Alan Marzullo
Business Manager